Meet the 2021 Awardees!
In conjunction with the 2021 Summit, youth who want to take on a leadership role to increase LGBTQ+ inclusivity in their community, school or family and friend groups had the opportunity to apply for Leadership in Action Awards, funded 100% by our generous 2021 Summit Supporters. $6,400.00 was awarded to 16 individuals and organizations.
ASPEN's Queer Straight Alliance (QSA)
"We have made huge strides toward inclusivity in our community. Because of this group, Livingston's high school now has its own GSA in the school! We hope to use this money to reach out to Gardiner and Shields Valley to create their own school and/or community groups in their towns. We have made a lot of progress getting into the Gardiner and Shields Valley schools because of queer students speaking out. They say the support of visible queer students helped them to come out and speak truth to power in their schools. Through ASPEN, [we've] been able to provide administration and staff with some basic training on gender identity and they seem open to learning more."
---
Box Elder School Two-Spirit Youth Club
"We would like to increase awareness around issues faced by LGBTQIA+ in our schools, families, and community. We would like to invite local tribal schools to participate in events such as hikes, pow-wows, gathering, and eventually begin working toward locating families in our community that would be open to housing our transgender and LBGTQ+ youth who need a safe place to stay either from family, abusive relationships, or homelessness. This is our first year starting this group. There are still a lot of people in our school and community who are not aware we have this group and the efforts we are making. A community social gathering would be ideal in bringing awareness to the community… advertisements, gatherings, community Q&A, family resources, and tribal programs could help once our club gets going again next year."
---
Bridgercare/Haven High School Peer Education Team
"Sex Ed is often heteronormative and cisgenderist at all ages, whether it's talking about puberty, STIs, birth control, consent or other related topics; [we seek] to change this. In classrooms and workshops we seek to be more inclusive of LGBTQ+ communities by sharing our pronouns, making sure to include information relevant to people of all sexual orientations, not assuming the gender of someone's romantic partner or crush. The group also leads lessons with kindergartners, 4th/5th grade students and high schoolers about common gender stereotypes and how these are harmful to people of all genders if they feel pressure to conform; and lessons in some settings for middle and high school students on the difference between gender, sex assigned at birth and sexual orientation with an empathy building exercise to help participants better understand the experiences of queer students."
---
City of Monmouth
"The city of Monmouth is a small college town west of Salem, the capitol of Oregon. The city reported just over 10,000 inhabitants in 2020 and continues to grow. With the college population, many efforts have been made public to represent and fight for social justice. In fact, since 2020's BLM protests, the city has had peaceful protests at least once a week since June 2020. We would like to further the spirit of representation, social justice, and inclusivity by purchasing and hanging 36 Progressive PRIDE flags to hang on the main street lights during 2021 June PRIDE Month. These banners would be situated on the main highway which is serves a major commuting route to and from the west of the Willamette Valley. Our hope would also be to make a press release in conjunction with the University's LGBTQIA+ club and the city's LGBTQ+ Affinity Group; we managed to secure the city council's permission and promise of support."
Update: With the grant that we were given in the city of Monmouth, we were able to celebrate the city's first PRIDE month. It was also the HOTTEST day of the year so there wasn't a massive turnout but we did manage to use the funds to buy 200 small pride flags and one large cross-street banner. We took a moment to commemorate, and placed 180 flags on all across the city park. Plans are beginning for the PRIDE month this year!!
---
DIA 4-H Club (Detroit International Academy for Young Women)
"Young people depend on a network of caring, trusted adults to reveal their true selves, and be vulnerable enough to discuss personal issues. Only when a sense of belonging has been created will youth begin to openly talk about gender identities and their need for resources. The DIA 4-H Club is open to all [and] the 4-H experiential model of learning life skills allows for an open forum of topics and leadership opportunities. Students will also be exposed to other young people through county-wide and state-wide 4-H programs. Exposure to different populations leads to an understanding of diversity and equity and then to the practice inclusivity. We will partner will DPS staff who identify as LGBTQIA+ to co-facilitate workshop sessions."
---
Emma Fontenot & Mayyadah Zagelow
"We hope to facilitate a book club to have discussions on topics such as the intersection of race, sexual orientation, gender identity, and the climate crisis. We will utilize the book Youth to Power by Jamie Margolin to guide our discussions. The book has 18 chapters, so we will ask participants to read three chapters each of the six weeks we will be meeting. The book features young activists that Margolin has met through LGBTQ+ and environmental justice advocacy. Margolin is a Jewish, gay, Columbian American climate activist from Seattle and we hope this book club will inspire other 4-H youth to create change in their own communities. In the past, our 4-H experiences have not addressed intersectionality with equity and inclusion work and we recognize that equity should be integrated into all of our activities. For instance, we have projects addressing environmentalism that are kept separate from other 4-H projects. We want LGBTQ+ inclusion to be included in a variety of programming and not just thought of as a separate activity or endeavor. By reading Youth to Power in this book club we will help participants to gain a better understanding of intersectionality and how they can apply this understanding to their lives and 4-H projects."
---
Gallatin High School SAGA (Straight and Gay Alliance) Club
"We would like to host a fall activity to unite members of Bozeman HS and Gallatin HS SAGA Club. Due to COVID-19 restrictions, students have not had the opportunity to collaborate and network between the two high schools, with GHS being a brand-new school this year. We would also use this fall activity to promote new membership at both schools and raise awareness of the LGBTQIA+ network within the schools so that students are aware of the supports available and feel safe within the school environment. We feel that this event will be a good opportunity to connect students from both schools so that they can create supportive relationships and make connections with their peers."
UPDATE #1: We just wanted to update you on our progress with the grant-we have already met twice with our SAGA Club at Gallatin High School and have many new members! We have set a date for our movie night-October 16th-and are planning for a fun outdoor viewing with snacks. The students are really looking forward to it and it will be a fantastic way to build community. Thank you again for awarding us this grant! -All the best, Noelle and Kerri, GHS Librarians and SAGA Co-sponsors
Update #2: We just wanted to give an update on our SAGA club dinner and a movie night. We were finally able to host our movie night last night in our school auditorium and used the funds from the grant to purchase a feast from Olive Garden and copyright licensing to watch the Pixar film, "Onward". We chose this film because not only is it uplifting (something we all need in these times!), but also, it features the first self-identified lesbian character in a Disney Pixar film (it's about time!). Due to Omicron, we had a bit of a smaller turnout than we initially planned for, but we still had 17 students attend our masked and socially distanced event! In addition to dinner and a movie, we did some fun icebreakers (pictured above). It was a wonderful opportunity for club members to connect and feel celebrated! Thank you again for awarding our club this grant! We appreciate the generosity of Rainbow Over the Rockies. -All the best, Noelle Harper and Kerri Cobb (GHS SAGA co-sponsors)
---
Mercy Health Project
"The Muskegon County Homeless Continuum of Care Network (MCHCCN) has developed a task force to address the homeless youth crisis we face in our community. To solve this issue, the MCHCCN will be applying for the Youth Homeless Demonstration Program funded through Housing and Urban Development (HUD). This program requires an active Youth Action Board (YAB). The YAB comprises youths aged eighteen to twenty-four who are at risk or have current or previous lived homeless experience. There is a growing concern with the LGBTQ+ community and youth homelessness. The network would like to increase the access to homeless services for the youth LGBTQ+ population and give them a voice as well as leadership opportunities in participation with the YAB. There will be opportunities for youth to work with professionals to grow their leadership and employment skills to increase participation. The MCHCCN will take the opportunity to utilize this award to provide an incentive for involvement and bring LGBTQ+ and youth voices to the YAB."
---
Oregon 4-H Access and Inclusion Committee
"We want to share our stories, but this is hard to do when you're not comfortable or do not see others in your position. By providing the opportunity to integrate educational tools into the march for LGBTQ and other equitable causes we empower LGBTQ youth and their allies. To know a story, you have to share it. I think by specifically selecting youth from this community to act as public educators in either a field of interest (health, art, math etc.) or an educationally supportive role we will increase LGBTQ visibility and remove the smoke screen that is misinformation and lost connection opportunities. By also training local LGBTQ members as youth teachers, we are facilitating the mastery of soft skills they will need for any career. Again, increasing the chances that they will be able to attain their goals and be role models for others who see people like themselves in important or passionate careers."
---
Pride House
"I would like to see a community center for LGBTQ+ teenagers. I see a lot of need for a sense of belonging, and our group at school is limited by school regulations and the reluctance some kids have to be publicly seen attending LGTBQ club meetings. I would love to have a place where students from all area high schools can come together for support, resources, friendship, and leadership training."
---
Elizabeth Sealey
"In rural communities, LGBTQ people face marginalization that impacts physical and emotional wellbeing. However, a lack of research on rural LGBTQ communities can make it difficult for public health professionals to understand the needs of LGBTQ people here. Rural areas across the United States of America are diverse in community attitudes towards LGBTQ people and available healthcare resources, meaning that LGBTQ communities will have varying experiences across rural America. In order to better understand the needs of the LGBTQ community in rural northeastern Montana, I am conducting qualitative interviews with LGBTQ people in this area. These interviews yield in-depth data about how the social determinants of health impact LGBTQ people locally. The analysis of this data will be used in the strategic planning process for the Richland County Health Department; our ultimate goal is to create data-driven plans for improving LGBTQ health locally. Finally, I hope to publish this research to add to the existing body of literature on rural American LGBTQ health. My hope is that in publishing this research, public health professionals in rural areas will have a richer understanding of the needs of rural LGBTQ people, and it will guide them in improving the health of LGBTQ people in their own communities."
Update: Lots of progress! Here is a summary of my preliminary findings and a recorded presentation about my findings so far (click below to see the recording).
---
Sidney LGBTQ Youth
"Sidney LGBTQ Youth is a student organization started by a few wonderful and brave high schoolers who recognized the need for a safe space for LGBTQ young people growing up in rural Montana. Over the past year, young adult leaders from the community have built up this program to not only be a safe space for LGBTQ youth to exist, but also aims to improve the mental and physical health of young LGBTQ people. In an area with a high youth suicide rate, limited mental health services, and few mental health resources for LGBTQ youth specifically, this is a much-needed service. Over the past year, we have focused on building resiliency in LGBTQ young people. Our curriculum has included monthly journal activities based around positive psychology, cognitive behavioral therapy, and dialectical behavior therapy. In-person sessions focus on developing skills to be resilient in the face of hardship; so far this has included teaching about empathy, the importance of identifying and processing emotions, reaching out for help when needed, challenging negative self-talk, and adapting when things do not go the way we planned. Additionally, guest educators come to teach about healthy eating, substance and tobacco use prevention, and suicide prevention."
Update: Here is our program evaluation for the 2020-2021 school year and a sample of our program activities (our April/May mental health journal with the topics of "Finding Joy", "Parts of Mental Health", "Reaching Out" and "My Mental Health Plan"; our journals are sent to members via mail). We also had an end-of-the-year graduation party!
---
Teen Influencer
"We are planning to make a website that spreads awareness about LGBTQ+ issues that are currently going on in our community. Through this website we can host multiple events in the future such as bake sales and fundraisers to raise money to donate to organizations devoted to supporting the LGBTQ+ community and LGBTQ+ run businesses. We could hold predominantly outdoor and virtual events, and possibly even poll people to see what they are comfortable with."
---
TransVisible Montana
"For the upcoming year, we would like to host the leadership camp virtually to provide accessibility for community members during social distancing. This event includes topics about how to facilitate a support group, racial equity, how to lobby & give testimony during a legislative session, how to plan an event so that it is accessible and how to tell your story in an effective manner to create change. Thanks to sponsors and grants, we have managed to make this leadership camp free to attendees and as accessible as is possible. TransVisible Montana also hosts training for organizations and functions that are interested in being better allies. The legislative session in Montana has been particularly difficult and exhausting for the transgender, non-binary, two spirit and gender-non-conforming communities. Since TransVisible is represented on the Free and Fair Coalition, the lobbying group that has been fighting anti-LGBT+ legislation, we seek internal healing so that we may be better able to provide care for our community. We would like to continue with our video project featuring transgender, non-binary & two-spirit Montanans. We are also planning an art project with the Holter Museum of Art for 2023 during the legislative session."
---
Washington State 4-H Teen Equity & Inclusion Task Force
We would like to hold a four-hour, one-day body positivity event to introduce our new dress code and increase acceptance of all bodies and gender expressions. We hope to hold our event with teens across the state so that the intention of the new dress code is clear. We hope to discuss the importance of creating a dress code that is inclusive of all genders, body types, and cultures. We hope to cultivate an environment where people can share their individual experiences with body shaming and share how societal expectations have affected them personally. We will share how LGBTQ+ people are disproportionately impacted by eating disorders caused by body dysphoria, and how being accepting can have both mental and physical benefits. We will end the event with a movie focused on body positivity in the evening. Historically our state dress code has not been inclusive of all genders and cultures. We hope that through educational workshops we will show leaders that it is important to have inclusive dress codes so that youth can focus on participating and learning during activities rather than the clothes that they are wearing."
---
Meet the 2020 Awardees!
In conjunction with the 2020 Summit, youth who want to take on a leadership role to increase LGBTQ+ inclusivity in their community, school or family and friend groups had the opportunity to apply for Leadership in Action Awards. $10,000.00 was awarded to 14 individuals and organizations.
Arizona 4-H Healthy Living Ambassadors – Youth Action Project
"Our Youth Action Teams has been working on ways to tackle student mental heath issues in our community, specifically amongst LGBTQ+ students. We are aiming to hold workshops with 4-H volunteers, 4-H staff, teachers, parents, and anyone who would like to learn more about best practices for inclusivity when working with youth, specifically, those in the LGBTQ+ community."
ASPEN's Queer Straight Alliance
"[We have] been actively meeting as a support group weekly for a year and a half. We appreciate the safe space to be vulnerable and truly be ourselves and those experiences inspire us to create more spaces in our community and schools like the one we have here."

Update ASPEN's QSA is growing in numbers, slowly but surely — and your support has given us the freedom to plan activities without worrying about how we're going to pay for them. ASPEN's QSA has been so fortunate — the Blue Slipper Theater in Livingston has been letting our group meet there weekly during the pandemic, which has given us the ability to still gather while maintaining physical distance to stay safe. We also had a super fun picnic in the park at the end of September with group members and their families. We followed protocols to not spread germs and played horseshoes and bocce ball. The QSA Halloween party at the Blue Slipper was pretty chill with tons of candy, cupcakes and ice cream and pizza. This week's meeting we actually got to meet outside in the ASPEN yard because it was 70 degrees and sunny! We met on election day, so we played "Electoral Pictionary" and ate popcorn.
Bozeman High School Sexuality and Gender Alliance
"We would like to continue our tradition of amplifying LGBTQ+ voices throughout our school and challenging those in our school who may spew hateful slurs in the hallways. And we would like to expand our role in our community by hosting bigger, better dances each year, with the end goal of inviting youths from across Montana to join us in a night of solidarity, especially those youth who may come from communities in Montana that are not the most welcoming of their LGBTQ+ voices."
Bridgercare/HAVEN Peer Education Team
"[We want to offer] training for Youth Serving Professionals about how to be LGBTQ+ inclusive in a classroom. Our Peer Ed Team would be especially effective at leading this type of training for a few reasons: 1. They are the ones who stand to be most impacted by changes implemented from this type of training. These are their classrooms and their teachers, and they can speak honestly to how inclusion (or omission) impacts them; 2. They're excellent educators and teachers appreciate hearing from well-spoken young people who are passionate about creating positive change."

Update While the SHAPE Conference and educator PIR Days were canceled due to the coronavirus, The Peer Educators were able to make important headway:
Held two listening sessions over the summer to learn from educators, parents of LGBTQ+ kiddos, and teen members of communities about what they feel should be included in this training.
The coordinators of the SHAPE Conference reached out about recording a two-hour session on this topic that they can give to teachers around the Thanksgiving Holiday. They are organizing for continuing ed units to be offered and we will submit the recording to them by mid-November.
An intern is currently working on compiling best practices for educators from organizations like GLSEN and The Human Rights Campaign. Data is also being compiled from the CDC, the Trevor Project, and others to help identify the need for trainings like these.
EmpowerMT Queer Youth Programs
"As the state of Montana continues to navigate the reality of COVID-19, the isolation and lack of community that LGBTQ+ young people are so often faced with is exacerbated, especially by LGBTQ+ and Gender Diverse youth who live in unsafe/unsupportive households. [We] will continue to provide and innovate impactful ways to provide a virtual safe space where LGBTQ+ and Gender Diverse youth are invited and encouraged to show up and celebrate their authentic selves."
Forward Montana – Montana Youth Organizing Summit
"Every year, [we bring] young people from across the state together to deepen and broaden their organizing skills. This year we aim to [have] more LGBTQ+ community members presenting and attending, having greater discussion of allyship and inclusive language, and how to create support for young members of the LGBTQ+ community especially those who live in more isolating environments."

Update This year has been unprecedented in the call for adaptation and flexibility, and that is what young people did this year when the Montana Youth Organizing Summit (MTYOS) was postponed until 2021. While an in-person summit was no longer a possibility – there was still a need for connection across the state to reaffirm the network of young people across to uplift one another. The 25 Under 25 Award Ceremony, usually an event that coincides on the same day as MTYOS, became the focus of this year. This event highlights 25 young Montanans under 25 that are shaping Montana with their work, vision, and perseverance – nine awardees this year were people under the age of 18! Beyond highlighting 25 amazing young people from across the state, the event this year brought together family, friends, peers, and mentors alike to soak up the experiences and lived knowledge of these young people. Awardees included:
Juniper Eastwood, the first openly trans woman to compete on a women's team in any NCAA Division 1 sport. A five-time Montana state champion in track and field and cross country in high school, she joined The University of Montana track and field and cross country programs in 2015. Since completing her collegiate athletic career during the spring of 2020, Juniper looks toward pursuing a masters degree in environmental philosophy at the University of Montana.
Keldon Joyner, is a creative, motivated individual who started live performance arts in Drag in 2017. He has been using this platform to fight for opportunity, community, and equality in Montana. For the past two and a half years, Keldon has taken large steps towards these goals with the support of the ISCSM – that with Keldon's help, has raised close to fifty thousand dollars a year for other charitable organizations and multiple scholarships across Montana.
And so many more young people who are moving their community towards justice and equity for all…
Gender Equality Montana
"GEM is working with the mayor of Bozeman and other partners with the goal of putting in a rainbow crosswalk in downtown Bozeman. This has been done in other cities throughout the country as a visual reminder of support and acceptance for LGBTQ+ community members. We plan on using the colors of the progress flag, which includes the typical rainbow colors as well as brown, black, and the transgender flag colors so that this is completely inclusive of all."

Update On August 17th, GEM, the Downtown Business Partnership, and the City of Bozeman, with support from over 100 area businesses and organizations, dedicated eight Rainbow Crosswalks at the downtown intersections of Wilson & Mendenhall and Tracy and Babcock. GEM Board Member Christopher Coburn describes the meaning of the nine colors and why these crosswalks are important to all community members in Bozeman and beyond.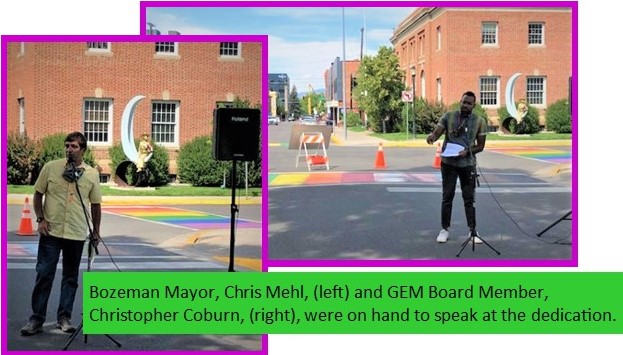 Gracie and Myanna at the Belgrade High School's Gay Straight Alliance
"[We] think that Belgrade is a very small town compared to Bozeman which is not too far away, and I think that we can be stuck in Bozeman's shadow at times. I hope to increase the awareness in our community of our new Gender and Sexuality Alliance we formed recently at the high school and I hope that this can help encourage kids to be themselves regardless of who they identify as or who they love. I have made it a goal of mine for the town I live with to be more inclusive and have events that are inclusive of the LGBTQ+ community so kids don't have to try and find a way to sneak over to the next town to be themselves."
Great Falls LGBTeenQuties
"We are trying to keep our socials going, and our prom, and other bigger events where kids in the community feel like they have a place where they can go and where they can feel like they can be themselves. Lots of kids have non-accepting families and [we] want to make sure they have a place to be accepted. [We] want show kids that there are a lot of people out there just like them."
Horse Haven Montana – New Beginnings Program
"We need to provide more programs that are relevant, impactful, and supportive of LGBTQ youth. Currently, to the best of my knowledge, there is no equine focused program for LGBTQ youth. if we can offer [our New Beginnings Program] to LGBTQ youth, it can have a dramatic impact that will be both internal for the participants and external for community members to come to know, understand and appreciate how youth who may appear "different," benefit equally, just like any other youth, from interactions, experiences and relationships with rescue horses. It is quite simply, a win/win proposition."
Jonathan at Birchwood, Wisconsin's Gender Sexuality Alliance
"I would like to create a more inclusive environment in my rural, conservative town. I started Birchwood Wisconsin's Gender Sexuality Alliance a few years ago and even won a $1,000 grant for the group! Sadly, the grant is not available anymore due to the COVID-19 outbreak [and] I still want to be able to take the kids in the group to conferences such as the Northwoods Gsafe Conference and the Statewide Gsafe Conference in Janesville/Madison. I would also like to order inclusive books for k-12 students to offer representation and hold a queer representation movie night throughout the community. I realize that no one should have to be ashamed of themselves and I realize that everyone matters in their own way, and that their voices need to be heard. Being a role model goes so far, especially for middle school students, and I want to continue to offer support and amplify voices."
PPMT Teen Council
"Teen Council is a peer education group consisting of high school students in the Billings area. [It] has always been a place that welcomes diverse youth in a safe and friendly environment. Members know that their identity will be respected in the group and many members have been part of the LGBTQ+, non-binary, and gender-diverse communities. Teen Council is a program of high warmth, high expectations, and high structure that teaches its members to become leaders in their schools, communities, and even in state and local politics."

Update PPMT's Teen Council had originally made plans to host an in-person open house for LGBTQ+ young people at the Planned Parenthood Health Center in Billings. The goal was to create open and safe conversations with young people about sexual health and encourage the LGBTQ+ community to access health care. Due to COVID-19 restrictions, all in person activities with Teen Council have been cancelled or modified to a virtual setting. The next step for this project is to create a virtual event, possibly coinciding with STI Awareness Month, to allow the community to learn more about services available at PPMT. Teen Council members are excited about continuing and adapting this project to meet the needs of both public health safety guidelines and the needs of young people in the Billings area.
TransVisible Montana
"We would love to use this [award] for our annual Leadership Camp or for funds to send representatives to other events. When the lives of transgender, non-binary & two spirit Montanans are more visible we all win. Community safety, productivity, and mental health are all benefactors of inclusion. We aim to educate & bring visibility! We celebrate our authenticity & willingness to unite our struggles with empathy to help lift others."
Washington State 4-H Teen Equity & Inclusion Task Force
"We would like to facilitate and support an inclusive 4-H youth organization. Using compassion and empathy, our teen task force strives to create an open and safe environment to celebrate and embrace our diversity. We hope to work towards our goals through curating and presenting workshops to leaders in our state…provide training for our youth task force members…create materials and provide information to distribute around Washington state regarding best practices and how to support participation for diverse youth. We want to ensure that 4-H programs are places in which all youth feel supported and able to express their whole authentic selves. We want LGBTQ+ youth that participate in 4-H to feel just as comfortable and supported as their straight, cisgender peers. Our task force hopes that youth will enter 4-H spaces knowing that they are safe and able to express themselves freely in a supportive environment when they otherwise may not be able to truly be themselves at home or school.

"Update The Washington State 4-H Teen Equity & Inclusion Task Force put on a fall leadership retreat for its members on September 26. Teen leaders from across Washington State joined together virtually for an engaging day of dialogue, speakers, and activities. To recognize the hard work of our members, each attendee received a retreat kit prior to the day including snacks, meals for the day, and craft supplies for the retreat. Our day focused on in-depth conversations around how to lead with compassion and empathy. We were joined by two speakers during the day, one a 4-H youth working on racial equity in the organization, and the other a community member that works with LGBTQ+ youth in the Seattle area through a nonprofit called The Lambert House.
The retreat gave opportunities for 4-H youth, especially new task force members, to connect and support each other. Attendees were so engaged in dialogue around equity for LGBTQ+ youth of color and the #BLM movement that the participants didn't log off for the lunch break and kept talking and sharing straight through the day.
As we begin our new 4-H year, our task force members provided positive feedback in response to this virtual retreat. They shared appreciation for the day from the deep conversations to the community building experience of an evening movie night online. Having the funds to make this retreat cost free and supply special food and activities for all our teens was really important in this time of covid. Thank you so much for the financial support to make this a special retreat and help us get our year off to a great start!
---